February 2018 highlights include a visit to Grasse to celebrate my birthday, some ongoing bricolage, and a somewhat rare snowfall on Villa Ndio.
Birthday dinner visit to grasse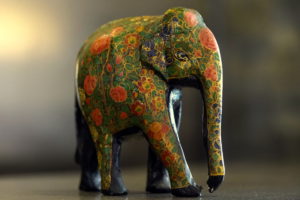 Kathy and I enjoy Indian cuisine so as a treat on my birthday we set out to find the restaurant that we used be down the stairs off one side of Place aux Aires in the pedestrian area of old Grasse.  We had noticed that it had moved to a new location and saw that the new address was on the road that goes out of Grasse to the east toward Chateauneuf. We parked in the public lot under the gare routier and found the new New Punjab easily, and enjoyed a terrific meal. We also enjoyed the restaurant decor, particularly the elephant shown here
Afterwards we strolled around Grasse a bit, for the scenery and some people watching.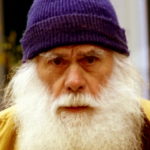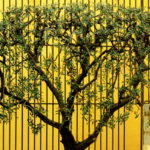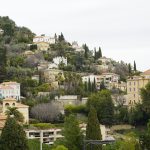 More renovations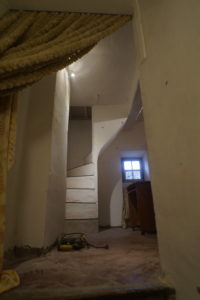 Renovations began on the room we have for years referred to as the boudoir, since it was adjacent to what was our old bedroom and housed a large armoire full of clothing behind mirrored doors.  Our old bedroom is now fully renovated and made up for visitors.  We call it the Picasso Room for its many reproductions of works by this favorite artist.  In February I took out the old spiral staircase  that was in the far outside corner of the boudoir. The staircase led up to what is now our new master bedroom.  The top of the staircase was boarded over, since this access was made redundant when I broke through the thin wall on the top level of the house.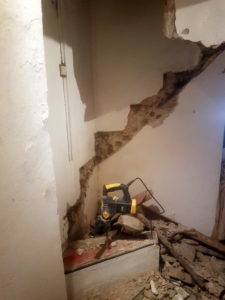 The spiral stairway was removed and a new wall with a doorway was installed on the near side of the room. Thus a small foyer was formed off the main stairway landing, with the Picasso Room on one side, and on the other, a new room to be used to accommodate guests. A small bathroom is planned as part of future renovations.
A Somewhat Rare Villa Ndio Snowfall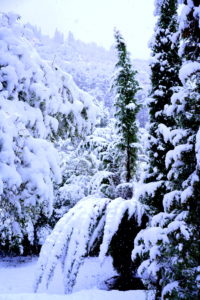 Snow in the South of France is unusual.  We expect only a dusting of snow maybe once every couple of years.  This was one of those years and we got far more than a dusting.  The scenes created are stunning, as you can see from the photos shown here.  But there is an unfortunate consequence that we have experienced multiple times — not traffic issues or freezing pipes, but damage to trees in our yard, particularly the tall and stately cyprès.  They simply cannot handle the weight of the snow and so bend over and stay that way after the snow is long gone. I climb up on a ladder and cut away the most damaged limbs.
Click on any image below to enlarge it and/or start a slideshow.
Share this post